West Sussex Bridal Hair and Makeup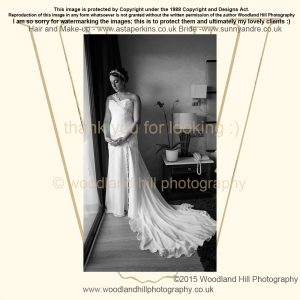 Today I am so pleased to wax lyrical about Asta Perkins who is just an amazing West Sussex bridal hair and makeup artist. You can see Asta's incredible work featured in many of my shoots and I am over the moon that she is also in charge of some of my 2015 Brides' wedding hair and make-up too 🙂
Asta has been featured regularly in a magazine called re:, where she is asked to write articles and her latest one was all about bridal make-up. This is often overlooked in the hub bub of arranging a wedding, but having a really good hair and make-up artist is the one thing that really brings everything together. It enhances the dress, the correct application ensures that it is neither too heavy or too light for the photographer; and most of all it has staying power so a bride will look as good at the end of the day as she did at the start. Hair and make-up artists of Asta's calibre are worth their weight in gold.
I am attaching the article for two reasons, firstly for all you lovely brides to have a read as the advice in there is well worth noting, but also to show off one of my images that Asta particularly wanted to use for the article. Last year Sunny Andre married the love of her life Danny and they truly celebrated the next chapter of their lives together with not one, not two but three weddings! It was a real honour to cover their Hindu ceremony in London and they have some private memories of a wonderful evening. We were chuffed to bits to be invited as guests to their beautiful Cyprus wedding and again it was lovely to capture some private images for them. Sunny has very kindly sanctioned this image to be used publicly to accompany Asta's article so it is lovely to be able to share it with you all. When I look at this image, it reminds me of the wonderful and fun time we all had, oh and me blubbing as Sunny walked with her Father to marry the man of her dreams; it was a moment I shall never forget.
Asta created the most beautiful look for Sunny for her wedding and as you can see this fitted perfectly with the dress that was designed by our very own Emma Tindley. This was a bespoke piece created just for Sunny to entwine her Indian heritage with Danny's Greek heritage. It really was a masterpiece and shows that Emma has the ability to create anything. She never fails to impress me! The beautiful headpiece was created by Ivory and Co. and again the whole look makes the eye flow seamlessly from head to toe.
As suppliers we love to work with people who are as committed to their craft as we are and working with these two ladies is nothing but a pleasure; here's to many more Asta and Emma.
Claire
xxx
Photographer – www.woodlandhillphotography.co.uk
Hair and make-up – www.astaperkins.co.uk
Dress – www.emmatindley.co.uk
Headpiece – www.ivoryandcotiaras.co.uk
Shoes – www.charlottemillsbridal.co.uk
Venue – www.palmbeachhotel.com